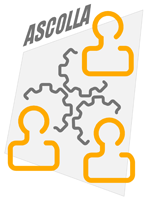 RSS Feed
ASCOLLA news feed

ASCOLLA news
Watch the progress of the ASCOLLA project by following our news announcements.
If you would like to be automatically notified of project news, you can subscribe to our RSS feed

.
News
New ASCOLLA site online
Dec 01, 2009
Welcome to the new ASCOLLA site.
We have expanded the content and redesigned the ASCOLLA site to make information easier to find. We have also added an RSS news feed, so that you can more easily keep track of the project's progress.